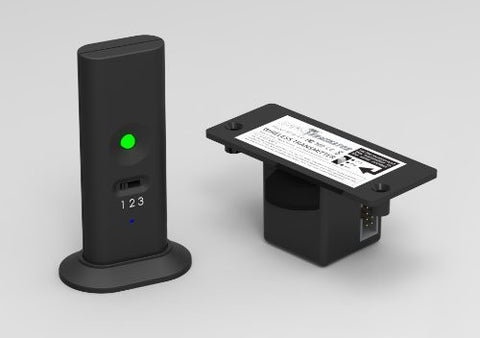 Rodent Terminator Wireless Monitor
The Rodent Terminator Wireless Accessory Receiver
The Rodent Terminator Wireless Accessory Receiver makes it easy to know when your Rodent Terminator works when you put it in those hard to reach places where rats and mice like to live. It's a snap to install -- in less than two minutes, with only a Phillips screwdriver, you can easily add remote monitoring to your Rodent Terminator.
The receiver plugs into a standard 110V outlet and the sending unit is powered by the batteries in your Rodent Terminator. Battery life may be reduced by 10% as a result of the WAR device being installed. The monitor will instantly sync with your Rodent Terminator once it is baited and set, and it will instantly let you know when there is any change in status - including a successful kill and low battery.
In the Box:
The Wireless Accessory Receiver (W.A.R) The kit contains the transmitter unit, mounting screws, the receiver unit with stand and a UL approved AC adaptor to keep it constantly on watch.
Syncs automatically with your Rodent Terminator
Wireless Communication Up to 100 feet (30 Meters)
The receiver unit constantly monitors the Rodent Terminator to indicate the status of the trap.
Immediately reports any changes, including low battery and successful kill.
With just 2 screws and less than 2 minutes, anyone can add the W.A.R unit to their W.A.R. ready RT-100 Rodent terminator! Easy to install -- all you need is a Philips screwdriver
---
We Also Recommend